Mon, Feb 04, 2019 at 9:55AM
---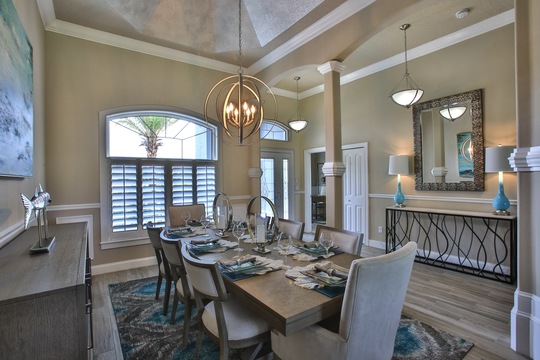 Your custom home can and should reflect your unique personality and style preferences. Still, sometimes it's difficult to get started with eye-catching décor that satisfies the needs of all loved ones. That's when it's best to embrace a design that can stand the test of time. Luckily, getting started is a simple and straight-forward process.
Unlike existing structures where you have to deal with what's there, custom homes offer highly-personalized features that perfectly match your desires and requirements. Use these tips to create interior design ideas that you'll enjoy for years to come.
1) Ditch the Rules…
As mentioned, your custom home should be exactly what you want. While it's difficult to break away from what everyone else is doing, signing on to styles that don't meet your needs will only set you up for disappointment.
Instead, it's wise to have a frank discussion with your custom home builder about all the features you most want and need in your new residence. This will ensure a finished property where you'll always feel content and satisfied.
2) …but Know Current Trends
On the other hand, it's helpful to have at least a basic knowledge of what people are talking about from year to year. You might glean a few ideas that work well into your own vision for home design.
For instance, gas lanterns have become a popular replacement for porch lights. This creates a welcoming ambiance for family and visitors arriving at your home when it's dark outside. Another way to make loved ones feel at home is through open kitchen plans. Since the kitchen is often a gathering area, it's nice to have ample seating and space where guests can feel relaxed.
In addition, the entryway to your custom home sets the first impression for visitors. Make sure you decorate with colors and items that show you're glad they've dropped by.
3) Foster Flexibility
Often times, you can set a striking design with built-in custom home features. For example, artistic millwork can be a foundation for other décor. Elegant lighting options are both simple and functional. These are just a few of the many features you can showcase up front. Your custom home builder will have other ideas to help your residence stand out.
Another strategy for timeless design is to pair old and new items. You might display artwork through different eras to create a historical timeline appeal. Or, you could place antique furniture next to more modern pieces. This attention to detail will definitely be noticed by everyone who visits your home.
4) Incorporate Natural Elements
For centuries, homeowners have brought outside elements inside. By embracing nature in this way, you also directly benefit from the oxygen-giving and mood-enhancing facets of interesting and aesthetic flowers and plants.
Particularly in Central Florida where the sun shines most every day of the year, adding additional windows in your custom home is a great way to bring in more light. Make sure to mention this and other "must haves" during conversations with your builder.
5) Plan for the Future
Life moves fast, and it's impossible to know what's going to happen next month, let alone 10 years from now. Still, making goals for you and your family is always a good idea. In a high-quality custom home, you get the peace of mind that your residence can provide decades of enjoyment.
The process starts by partnering with professionals who care. For nearly 30 years, we've helped countless families find their perfect spot in Halifax Plantation. Conveniently located near major roadways and amenities, here you'll also enjoy a laid-back and private lifestyle, nestled in the natural beauty of the Sunshine State. Contact us today to discover how simple and affordable it is to finally get the home of your dreams.
____________________________________________________________________________
Content Sources