Fri, Jul 06, 2018 at 11:45AM
---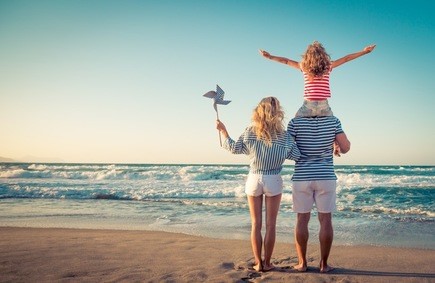 It's a common summer refrain from kids and adults alike: "There's nothing to do!" In fact, there are many fun and exciting family-friendly activities happening all summer long in and around Ormond Beach.
No one's quite sure where the notion started of summer in Central Florida being boring or uninteresting. Despite the heat and humidity, there are several ways to make lasting memories and have a blast. Here are a few of the most popular:
1) Shopping
Ormond Beach is known in the region as having one of the most quaint and inviting downtown areas in all of Central Florida. From unique shops and restaurants to name brand favorites, there's something for everyone in town.
In addition, the weekly farmer's market (Thursdays, City Hall) features for sale produce, hot meals, gifts, art, plants, and more. City Hall also shares a parking lot with the Ormond Beach branch of the Volusia County Public Library — offering an interesting and informative escape from the elements before you embark on the rest of your day.
2) Arts and Culture
Ormond Beach has become known as a popular stop for enthusiasts of the finer things in life. From the Ormond Beach Memorial Art Museum, to seasonal displays inside The Casements, and musical selections at the Ormond Beach Performing Arts Center, there's no shortage of opportunities to partake in art and culture.
In addition, many outlets also offer kid-friendly involvement such as art and music lessons, hands-on exploration, interactive demonstrations, and more.
3) Family-Friendly Fun
East Volusia County is an ideal spot for family entertainment. From Ocean Walk entertainment, to the beach, and other options, it's easy and affordable to capture and keep the attention of kids, young adults, and other guests.
Area parks are a perennial favorite, where all members of the family can relax and enjoy quality time spent together. In addition, there are many summer and day camp activities available.
Another popular annual activity is the Daytona Beach Bandshell Summer Concert Series. When the sun goes down (Saturdays, May through September), the music and dancing starts.
4) Nearby Attractions
There are also plenty of interesting things to do in Daytona Beach during the day, including the Richard Petty Driving Experience at the Daytona International Speedway, and the Museum of Arts and Sciences and Cici and Hyatt Brown Museum of Art. Nearby are the Tuscawilla Preserve, and Jackie Robinson Ballpark.
Neighboring cities are also easily accessible for day trips, including New Smyrna Beach, Saint Augustine, DeLand, and more.
5) Future Plans
Whether you're visiting Ormond Beach from out of state or another spot in Florida, you'll quickly recognize the charming and welcoming atmosphere of this dynamic city. That's why more people choose to call this area home.
In addition to the friendly and relaxed culture here, Ormond Beach is close to essential amenities and world-class attractions. Many visitors comment on how the city has been able to keep its small-town values while still matching all the conveniences and technologies of today.
Best of all, it's easy and affordable to create your ideal custom home here. In fact, for more than 25 years, we've been helping people from across the country do just that. View the 'community' section of our website to find the perfect dwelling for your unique desires and requirements. Then, contact us today to get started on the custom home of your dreams.