Mon, Nov 23, 2020 at 11:44AM
---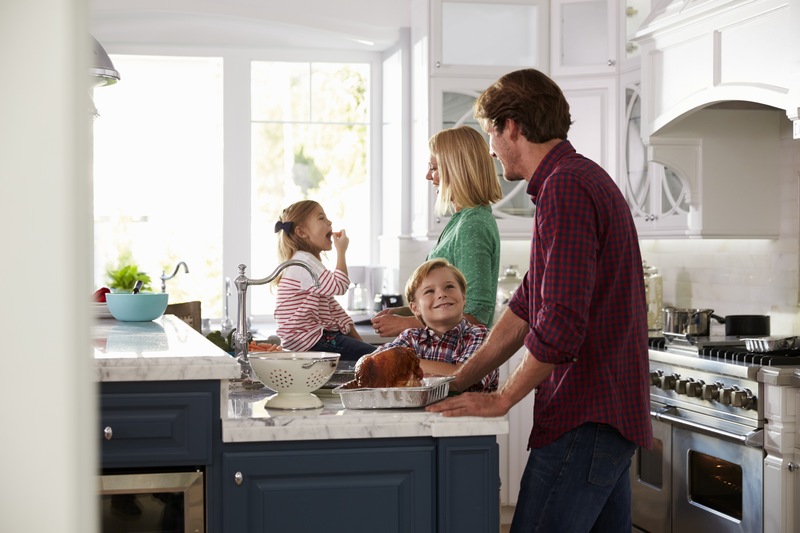 As we make our way towards winter and the holiday season, we often find ourselves spending more time in the kitchen in preparation for our celebrations! It's an important room in any household, and that becomes even more apparent during special holiday meals. Whether you're cooking up a Thanksgiving feast, gathering the family for Christmas dinner, or preparing any other meal in-between, there's plenty of different factors to consider while you plan your custom Ormond Beach, Daytona Beach, or New Smyrna Beach homes and kitchen spaces within them. Read on for some areas to keep in mind while planning to maximize usage of your new-construction cooking space.
Plan Plenty of Counter Space
When you're preparing a major festive meal, you'll quickly realize that counter space is critical. You'll need plenty of room to spread out when baking, keeping several dishes cooking at the same time, or plating meals. Furthermore, appliances kept on the counters will need space, as well. Considering layout can be helpful – perhaps adding in an island will be the best way to incorporate additional space for cooking as well as casual eating and even additional storage space. Furthermore, you'll want to think about materials! You might explore granite, quartz, marble, and other stone options for a sturdy, high-end, elegant look.
Consider Oven and Stovetop Needs
When opting for different appliances, considering your cooking and eating habits are key. Different types of cooktops exist for different lifestyle needs, from gas, electric, induction, and more. You'll want to consider the number of burners you'll need, especially if you love crafting big holiday meals with plenty of courses and dishes. The oven is equally important, especially for bakers. Perhaps a double oven is the luxury cooking option you need!
Keeping Organized is Key
Keeping organized is a must for any kitchen so that regular food prep can be a breeze and not a total mess! One key to this is considering your kitchen storage system – and planning to have enough space to hold everything you need with some room to grow, as well. Installing cabinets offers plenty of design options – perhaps, for example, you'd like to opt for open cabinets or shelving to display your dishware. Different types of wood or cabinet fixtures can completely change the look of your kitchen design, as well. Furthermore, be sure to organize within! Drawers and cabinets can benefit from dividers and clear storage to divide up utensils, stored food, spices, and more to create a pleasing-looking space where you'll love to cook.
Create Comfortable Eat-In Space
This year's circumstances might mean less guests at the table – so it might be time to start thinking about creating options for smaller-scale, comfortable eating spots right in your own new kitchen. Creating a dining nook might be a great choice for smaller family meals or even a cozy morning breakfast alone. Or, you might introduce seating space to your kitchen's island to bring food fresh from the kitchen to your plate.
Build In a Great Location
No matter your unique needs, renowned custom builders are working in Halifax Plantation and can help you to create the perfect home and gourmet kitchen to fit your lifestyle. At your new home in Ormond Beach, you'll surely have the perfect space to get cooking and creating family memories for years to come. When it's time to discover a great way of life and plan your move, contact us today – we're ready to help.