Wed, Apr 03, 2019 at 11:00AM
---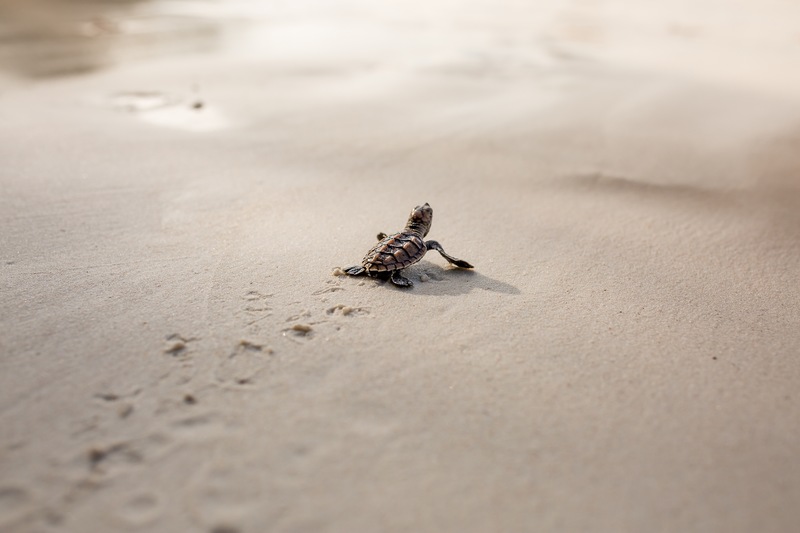 Life in Central Florida comes with many distinctions. People from across the country and the world flock to this area each year to enjoy maximum vacation memories. Plus, there are many world-class attractions and top-notch amenities that make this region second to none.
In addition, certain annual events are special to locals and visitors alike. One of those is sea turtle nesting season, which in this area takes place from May to October. During this time, it's not uncommon to witness sea turtles hatching and making their way into the ocean.
People who have seen this event marvel at the majesty of nature. For many, it's a once-in-a-lifetime experience that can be emotional and truly memorable. There are some things to be aware of, however, to ensure everyone (both people and animals) remains safe. Use these suggestions to make the most of this year's sea turtle nesting season.
Know the Facts
Often, education is they key to better understanding animals and even fostering a deeper respect for them. For example, did you know that the average lifespan of sea turtles is 80 years old? Sea turtles are also one of only a handful of sea creatures that eat seaweed.
Unfortunately, wildlife experts say only about one out of every 1,000 hatchlings makes it safely to the sea each year. Some are too weak to make the trek, while others fall victim to predators.
Also, while some people think the eggs of sea turtles left behind are a form of trash, the truth is that dune vegetation is actually fed and fertilized by the natural decomposition of sea turtle shells.
Respect Rules and Guidelines
Did you know that baby sea turtles are very sensitive to light and can easily become confused? That's how they sometimes end up on backyard patios or other areas where they become vulnerable to predators.
Wildlife experts say one of the best things you can do if you live on or are just visiting the beach is to use turtle-friendly lights or none at all. In fact, most beachside hotels now turn their lights away from the beach, so turtles won't mistakenly crawl onto the premises.
Practice Beach Safety and Conservation
There are other things you can do to ensure the safety of baby sea turtles. That includes:
not leaving trash (including fishing line) on the beach
filling in beach holes so sea turtles don't fall in
keeping lawn chairs and beach paraphernalia away from nesting sites
avoiding beach activity during the nighttime hours
participating in beach cleanup activities

It's also important to note that disturbing sea turtles nests is against the law. Beach patrol will typically rope off nests with bright caution tape that makes it clear the area is off-limits.
If you happen to witness sea turtles making their way to the sea, it's imperative that you don't touch them. In the case of a potentially-dangerous situation, contact wildlife officials who can immediately take action.
Embrace the Florida Lifestyle
For many people, just seeing a sea turtle nest or sea turtles making their way to the ocean can be the opportunity of a lifetime. That's just one of the many things that makes life here in Central Florida so wonderful.
In addition, this region is home to many dynamic and thriving communities full of friendly and like-minded people who share your same interests. That's partly why Halifax Plantation was featured in this year's Parade of Homes for both Flagler and Volusia Counties.
In fact, for nearly 30 years we've exceeded the expectations of countless homeowners with the stylish, sophisticated, and truly elegant custom homes we're able to create. Browse our website to learn more about our community and building process. Then, contact us today to get started on a personalized residence in one of the most beautiful areas in the world.