Tue, Jan 21, 2020 at 1:20PM
---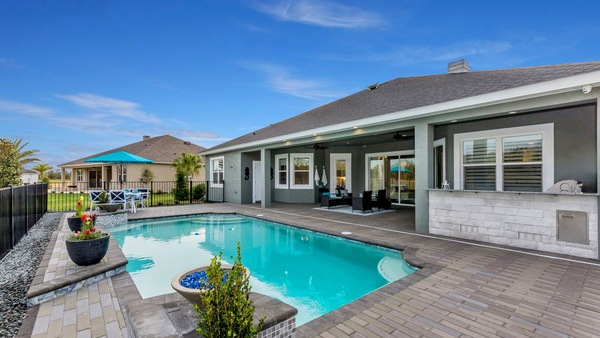 You may have heard the idea of a "starter home." That's when you get a house that meets your current needs, with the thought of moving on in a few years. The reality is that you don't have to go that route. In fact, there are methods by which you can have it all, right off the bat. When you build a high-quality custom home, you get everything you've always wanted in a residence, with none of the awkward or undesirable aspects of existing structures.
Plus, you'll also benefit from a wealth of other amenities. You could even forge friendships that can easily last for decades. Just think about what a quality of life boost a custom home could mean for you and your loved ones. Here are some more of the many ways that this option can easily become your forever residence.
1) Tailored to Your Preferences and Requirements
As mentioned, your custom home is just that: a residence that meets your specific desires and needs. So, if you're a master chef, you might want to put a focus on kitchen perks. Or maybe you're most interested in relaxing and unwinding after a long day in the comfort of your custom bathroom.
The first step is to find a trusted and reputable builder who can work with you to find the best features for your wants and requirements. By asking questions, you might even become aware of life-enhancing tools and features that you hadn't previously considered.
2) Designed with the Future in Mind
Time moves quickly and before you know it, your existing home could be outdated or otherwise not meeting your needs anymore. The trouble is, moving is a time, cost, and labor-intensive process. Why put yourself through that kind of stress?
When you start fresh with a custom home, you can think about and plan for future needs. For instance, it might be wise to install hand railing in the bathroom. Or, you could explore how in-home technology can make your life easier. Then there are other points to consider, such as entryways, backyard features, and more. Your custom home builder can provide valuable advice and assistance all along the way.
3) Energy-Efficient and Built Well to Last
One of the many benefits of building a custom home is that the residence is built with high-quality materials and energy-efficient appliances and features. That can save you big money in the long-term. In addition, it's nice to know that you're doing your part to help preserve the environment.
Plus, when you choose the features of your custom home (right down to cabinets and door handles), you get the peace of mind that the job is being done right, without any cutting corners. That's a major improvement to existing structures, where it's difficult to know what was done and what wasn't. With a custom home, you know that you're getting a stand-out residence in a great community.
4) Live in an Outstanding Neighborhood
To that point, now's the time to finally start living the life you deserve, in one of the most prestigious and spectacular neighborhoods in Central Florida. This is where you can be close to needed amenities, but still far enough from the hustle and bustle of the city that you'll never feel overwhelmed or stressed out.
For more than 30 years, we've exceeded the expectations of countless residents just like you with the stellar custom properties we're able to create. Don't put off your dream any longer. Contact us today to learn how simple, straight-forward, and affordable custom homeownership can be.