Sun, Jun 03, 2018 at 11:20AM
---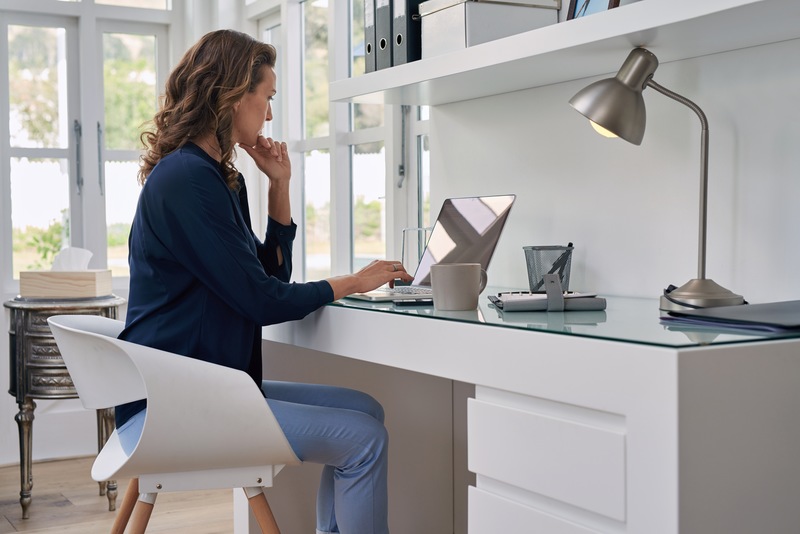 The spare room in your custom home can be used for many purposes. One of the most popular is a home office. Whether you're employed full-time, generate income as a home-based consultant, or simply need a reliable area in which to complete work and errands, this space is convenient and efficient.
More than 32 percent of all workers admit to quitting jobs due to lack of flexibility (such as work-from-home options), according to research by Flex Jobs. In addition, employment for senior citizens is at the highest level in 55 years, according to data from the Bureau of Labor Statistics. Researchers expect 36 percent of people aged 65 and older will be employed at least part-time by 2024. Many of these workers desire or require the ability to work remotely.
In this article, you'll learn some of the many novel ideas to make your home office the best room in the house.
1) Create Comfort
When you have a home office, it's essential to set up a space where you'll feel safe and productive. The first step is to focus on ergonomics. That includes ensuring your computer is at eye-level, purchasing a comfortable seat, and including other amenities that will help you focus and relax.
In addition, ample lighting is a must. Overhead lighting and table lamps are helpful at night and in times of cloudy weather. However, a skilled and qualified custom home builder can help you fashion rooms that incorporate the natural Florida light. This saves you money and also helps you better connect with nature.
2) Secure Storage
Today's storage goes beyond filing cabinets. Closet shelving, bookcases, and wall storage are all smart options to keep your home office clutter-free. A knowledgeable custom home builder can also offer advice on how to best accommodate maximum storage this room.
Also, while it's true that home offices are on the rise again, many homeowners still desire a multi-purpose space. This includes guest accommodations, play area for kids and grandkids, and more. Adequate storage allows you to quickly transform your home office into a temporary area for other uses, and then easily change back once the event has passed.
3) Think Double-Duty
This room can also easily be converted into permanent hybrid use where everyone can benefit.
For instance, If you'll be spending a good deal of time in your home office, consider adding furniture such as a couch or comfortable chair. This affords an area in which you can relax. Some homeowners choose to add other items (such as a television). This allows other members of the family to access and enjoy the room when it's not being used for work purposes.
Should you choose to go that route, consider adding other comforting elements such as art, personal décor, and live plants.
4) Get Expert Advice
For more than 25 years, we've helped homeowners fashion the perfect homes based on their unique desires and requirements. The exclusive builder for Halifax Plantation, we're focused on helping you secure a residence that's both functional and fashionable.
With many floor plans and home building options from which to choose (we also welcome custom plans), our friendly and qualified staff works with you to craft a luxurious custom home of which you can be proud.
Discover why we've been voted best builder seven years in a row. Contact us today to get started on your dream house.