Mon, Mar 22, 2021 at 1:17PM
---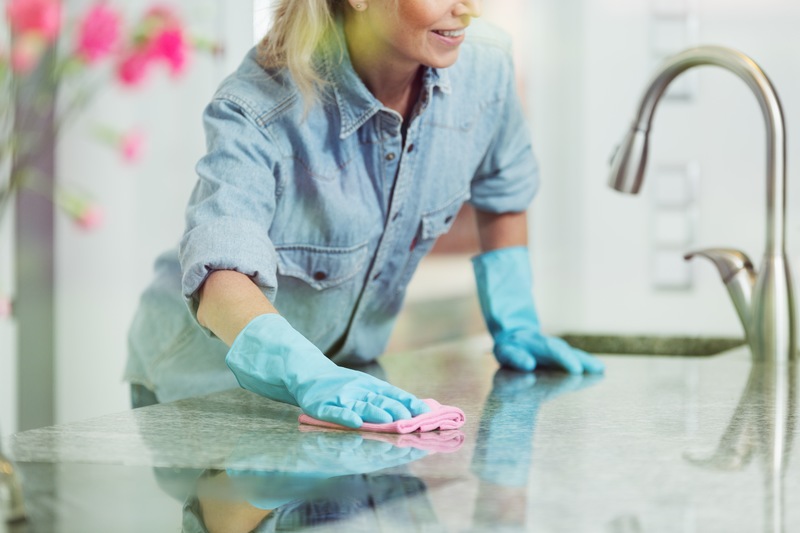 It's the perfect season for a squeaky-clean, fresh start. Experts suggest that a clean space can have plenty of benefits – like boosting your mood and productivity while bringing down stress levels. Even if you don't have the time for a full, seasonal, deep clean, there's plenty of small and simple ways you can elevate your routine around the house to get into the spring cleaning spirit. Read on for a few of our favorite tips!
Clean Pet Hair Quick
We love our furry friends – but their shed hair can certainly be a nuisance wherever it builds up around the home. Cat or dog fur can cling to clothes, furniture, carpets, and even more. So, how can we best get rid of the stuff? Tackle it early by remembering to keep lint rollers in different areas around the home – you might benefit from keeping one by the entryway for your clothes on the way out the door, or to keep one in the living area to remove hair from seats and pillows. Another very helpful tool is a squeegee – whether you're working with a traditional window tool or are investing in a rubber squeegee and broom tool created for this purpose, it's a great way to remove hair from surfaces quick! In a pinch, grab some rubber gloves to help attract and scoop up pet hair from rugs or upholstery.
When Life Gives You Lemons
If you have a few spare lemons, you've unlocked plenty of ways to clean in your kitchen with a fresh, natural ingredient! Unwanted odors in your garbage disposal can be solved with the help of a little citrus – simply run some cut up lemon through the disposal to cut through unwanted smells and leave a lemony scent behind. Or, use them to clean up a microwave – combining water, some white vinegar, and lemon in a microwave-safe bowl and heating it up for 2 to 3 minutes can fill your microwave with steam and loosen grease and grime to easily wipe it away. If you love the fresh, clean smell this provides, spread it throughout your home by boiling some water, lemon, and other herbs in a pot, then allowing it to simmer and naturally scent your home.
Refresh Your Work-from-Home Office
If your work-from-home desk is seeing some wear and tear this year, now is the best time to show it a little TLC. After giving the space a good dust and your screen a wipe clean with a microfiber cloth, turn to your keyboard. Get rid of crumbs stuck between keys with the help of a cotton swab, then try compressed air to remove any stubborn dust – here or in other small spaces in your electronics. Have a desk drawer that's quickly becoming a junk drawer? Dump out everything important and give the drawer interior a once-over with a handheld vacuum or nozzle attachment. Once clean, it's the perfect time to tidy up with some in-drawer organizers to keep all your office supplies handy and convenient.
We hope that these tips give you some new and inventive ways to think about caring for new homes in Daytona Beach, Ormond Beach, and the surrounding area! If you're seeking out the perfect place for a clean, fresh start in a new home, it's time to explore life in a golf community like Halifax Plantation. Your everyday adventures begin here – contact us today to explore available lots and connect with premier homebuilders!