Mon, Mar 22, 2021 at 1:18PM
---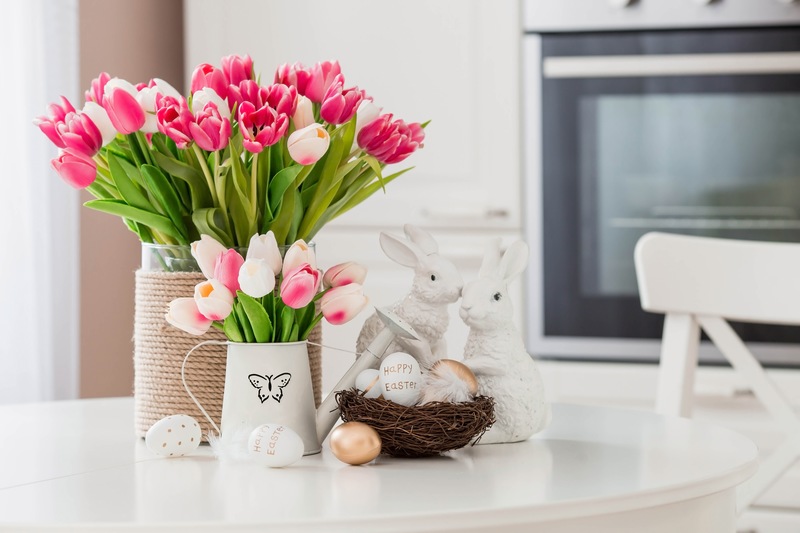 With springtime blooming onto the scene, we're all feeling a little bit of a refreshed mindset. Whether you're enjoying warm weather, fresh food, or simply an uplifted spirit, we also think it's the perfect time to bring a bit of newness to your surroundings! While you're handling your spring cleaning efforts, consider making some simple decorating changes to create a big impact on your mood and home's atmosphere. For example, why not try switching up your dining table centerpiece? Read on for a few eye-catching, different ways to turn your next sit-down dinner into something a little extra special!
Create a Unique Floral Display
Springtime is synonymous with florals – so, of course you'd be thinking about the many possibilities to set your table with a vibrant, beautiful bouquet. And – why not? Picking up some bright, fresh blooms is a great way to bring plenty of color to your table. We suggest keeping things interesting by swapping out your standby vase for something a little more unusual – try a watering can for some seasonal flair, or even a fancy water pitcher serving a different role!
Keep Fresh Fruit at Hand
It's always a good idea to keep fresh and healthy snacks on hand – so why not help set the table with a delicious and beautiful-looking bowl? You're probably used to keeping your produce in the kitchen, but stocking a decorative bowl with apples, oranges, bananas, or other tasty fruit options is a great solution for both decorative appeal and convenient snacking.
Experiment with Antiques and Sculpture
Hoping for something show-stopping and unique to take center-stage at your table? It might be the time to browse your local antique store and breathe new life into an old treasure. Take a look around for some visually appealing trinkets – like interesting figurines, bowls, trays, candlesticks, or anything else that catches your eye. Use your findings to set up an interesting vignette – or visually appealing grouping of objects. After all, incorporating a touch of something vintage into Ormond Beach new homes is an easy way to add a classic feel to your décor! Alternatively, try out a single, unique piece, like a statement sculpture to add some artistic flair to the center of your table.
Craft an Outside-of-the-Box Bouquet
While you might still be interested in setting your table with a more-traditional bouquet, you might enjoy experimenting with fun new materials! For example – why not trade flowers for feathers? Try a bundle of fluffy ostrich feathers – often available in different colors and sizes – for a Gatsby-style luxurious touch. Or, opt for an arrangement of bold peacock feathers! Alternatively, there's plenty of other materials that could make a fun bouquet. For a quirky, seasonal touch, consider a bunch of pinwheels or another springtime trinket. Your options are limitless – just think creatively!
Small, fun décor touches like these are the perfect way to bring your style into a new season – or to turn a new house into a personalized home! If you're seeking out new home communities and wish to join a full lifestyle, luxury community, look no further than Halifax Plantation. A new adventure awaits every day – so don't hesitate to contact us and learn more about working with one of our preferred custom home builders to create amazing new homes in Ormond Beach Florida!