Thu, May 28, 2020 at 2:47PM
---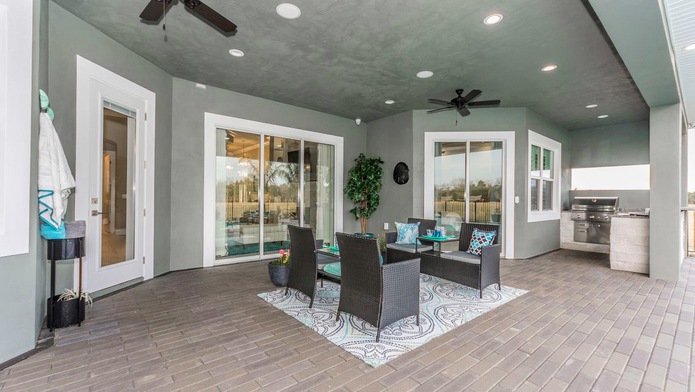 Sometimes it's difficult to get away for a holiday or even weekend excursion. Especially when you might feel better remaining at home, it's nice to know that there are ways you and your family can log a relaxing 'stay-cation' and never have to leave the house.
It starts by teaming with a dynamic custom home builder who can help you get everything you've always wanted in home. Here's where you're in control every step of the way: from floor plan, to landscaping, and even minor details. Just imagine the comfort and safety you can achieve when you create a custom residence tailored to your exact desires and requirements. Read on to learn more about how you can establish resort-style luxuries in your own custom home.
Kitchen Essentials
They say the kitchen is one of the most used rooms in your house. Even if you're not a master chef, you'll still spend a good deal of your time preparing, cooking, serving, and enjoying meals. That's why it makes sense to create an inviting and comfortable space.
Today's custom kitchens are designed to satisfy both fashion and function. For example, installing hydraulic cabinets makes it easy to access needed items, even with only one hand. Drawers with several tiers could replace the necessity of having multiple cabinets. You could also get creative with islands, counter space, storage, and more.
Don't forget "smart" features such as being able to pre-heat the oven remotely. This will save you time and money in the long-run. To that end, environmentally-sound additions will help you achieve both the energy-efficiency and global sustainability that you desire.
Bathroom Amenities
Imagine relaxing and unwinding in your custom bathroom after a long day at work, school, or other obligations. The dream can easily become a reality when you team with a trusted and reputable home builder with a proven track record of success.
Choose a cozy spa-like environment, or feature wide-open spaces. You'll also enjoy getting creative with colors, art and décor, storage options, and similar. Plus, options abound when it comes to plumbing, hardware, bath features, and flooring.
You could also incorporate natural light to harness the beauty and elegance of Mother Nature. Your custom home builder will also have unique insight and ideas that you might not have previously considered.
Flex Room Possibilities
One of the many perks of having a custom home built is the flex room. This is a multi-purpose space that can be tailored to your preferences and lifestyle. For example, maybe you want a home office or personal gym. Or perhaps you'll use this area as a place where kids and pets can play. You could also entertain guests for the night by providing comfortable and spacious accommodations.
Other ideas include a media room, home massage parlor, reading den, man cave or she-shed, game room, home bar, and similar. The sky's the limit when you select the freedom and flexibility that comes standard with custom home ownership.
Outdoor Ambiance
Now that you've placed all the comforts you'll need inside, it's time to think of the exterior of your custom home. What kind of landscaping matches your desires and requirements? Which outdoor features blend well into your lifestyle? How will you and your family members enjoy to the fullest your new custom home?
For more than 25 years, we've assisted countless homeowners just like you find their ideal spot in the growing and thriving community of Halifax Plantation. Nestled among Central Florida nature but still close to needed amenities and attractions, this is where you can truly have the best of all worlds. Browse our website to view photos of our recent work. Then, contact us today to get started on a high-quality custom home of your own.