Wed, Apr 28, 2021 at 3:19PM
---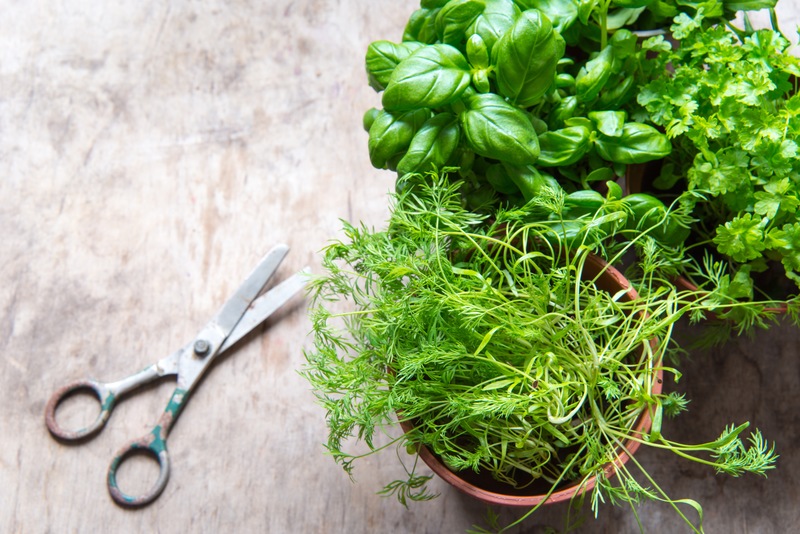 As we welcome in the springtime, it's also a great time to celebrate April as National Garden Month! Whether you already have a finely-tuned green thumb or struggle with bad luck taking care of plants, there's plenty of simple-to-grow herbs that you, too, can sprout at home to add some extra zest to your cooking! If you're looking for inspiration to begin your own little herb garden in the season to come, read on for a few of our favorite plant picks:
Basil
What better accent is there to your favorite Italian-style dishes than fresh, home-grown basil? It works perfectly amongst mozzarella and tomatoes for a tasty caprese salad, blends deliciously into homemade pesto, or adds an elegant touch atop pasta or pizza. If you're interested in growing your own basil, you can readily do so, potted in a container with good drainage, moist soil, and lots of sun – which shouldn't be a problem for those in new homes in Daytona Beach Florida and beyond! If you pick leaves regularly once the plant is 6 to 8 inches tall, you can continue to encourage the plant to grow.
Parsley
For a pretty garnish to add lots of color to your dishes, look no further than your own home-grown parsley! This herb is great atop potatoes, pasta, stews, and much more. While parsley grows best in full sun, it can also be a slowly growing addition to a window ledge garden. Either way, make sure to get the brightest light possible – and to provide a container with good drainage. Harvest your parsley once it reaches 6 inches tall – and be sure to take stems from the outside of the plant to encourage more growth from the center.
Rosemary
Rosemary pairs perfectly with whatever protein you prefer – whether chicken, lamb, pork, steak, or fish. It's also a great addition to soups, stews, and casseroles! To grow it at home, opt for slightly dry soil and a bright window – or outdoors in full sun. Kept indoors, it's a wonderfully fragrant plant that can act as a natural air freshener! Prune it regularly – you can even dry extra stems to later use in soups.
Thyme
As part of the mint family with a slightly floral flavor and lemon-y smell, this delicate plant is great in Mediterranean cuisine and southern European dishes. Add it to lamb, chicken, and potatoes, or incorporate into sauces or dressings. The leaves can also be dried on whole stems in bunches for later use. Thyme thrives in sun and heat, but can be grown from cuttings planted in indoor pots. Be sure to water it deeply when the soil has completely dried – and, when harvesting, don't wash clean leaves, which may remove some essential oils.
Mint
If you're a fan of mint-accented drinks like mojitos or enjoy a refreshing addition to iced lea or lemonade, mint can be a great addition to your personal herb garden! However, be careful with your growing plans – mint is an invasive plant which can quickly spread through a garden. It's grown best solo and in a container. Keep its soil moist, then, once grown, harvest it by pinching off the stems.
Dill
Whether as a spice for pickling or flavoring for fish, lamb, potatoes, or more, dill makes an excellent choice! As a tall plant with long roots, dill grows best in a deep container, potentially supported with a stake if necessary. Be sure to keep your plant well-watered! You'll achieve the greatest flavor if the dill is picked before flowering – carefully clipped close to the stem.
Take full advantage of National Garden Month – and the summer to come ahead – by growing some amazing herbs to harvest and include in your home cooked meals. There's no better place to enjoy food, family, and fun than right here at Halifax Plantation – and we welcome you to explore our amazing community filled with quality new homes, as well as endless conveniences and benefits to enjoy. To learn more about lot opportunities and other exciting happenings at Halifax Plantation, Ormond Beach's top luxury golf community, contact us or subscribe to our newsletter today!